Air Cooled Condenser
Introduction
Air-cooled condenser is a cooling device that is equipped with freon refrigeration equipment for cooling with air.
Product Parameters
Features:
Shell with high-quality steel plate, the surface spray promises the corrosion-resistant and beautiful appearance;
Coil with copper pipe staggered mode, the use of mechanical up the tube, so that make the copper tube and fins close,
Good heat transfer effect;
Wind test and system sewage treatment;
Could applicable to R22, R134A, R404A, R407C and other refrigerants;
Wind condenser are used large air volume, low speed motor, with a small noise, beautiful appearance, can be widely equipped wit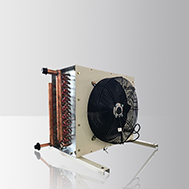 Request Catalogue
Request Tech Details
If you have any doubts about the product, please feel free to contact us by phone or email us. We will provide 7*24 hours service, sincere thanks.
inquire@zhcooler.com
+86 15603820837