Aluminum & Copper Tube Fin Radiator
Introduction
R-HRQ SERIES AR-HRQ SERIES ZHCOOLER focus on another type of Aluminum Radiator for 15 years, has rich experience in continuous brazing welding technique.
Product Parameters
R-HRQ SERIES
AR-HRQ SERIES
Products are light weight cost savings
Welding technology mature, long durability cycles
Good thermal performance
Optional a variety of aluminum pipe specification
Optional variety end cover design
Casting end cover, mechanical welding end cover, a manual bolt fastening end cover
Can be cust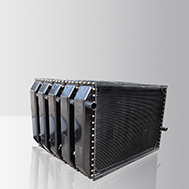 Request Catalogue
Request Tech Details
If you have any doubts about the product, please feel free to contact us by phone or email us. We will provide 7*24 hours service, sincere thanks.
inquire@zhcooler.com
+86 15603820837