Natural Gas Equipment Heat Exchanger
This product is our plate-fin oil cooler heat exchanger for mature natural gas equipment, suitable for new energy oil and gas equipment companies worldwide.
Advantages: Explosion-proof motor, corrosion-resistant, anti-electromagnetic design, good heat transfer performance, compact structure, high efficiency internal fin design and staggered heat transfer design, customizable design, optional dual motor, or four explosion-proof motors.
Application: Suitable for different cubic oil and gas equipment manufacturers and after-sales service providers.
Market case: At present, we have matured and supplied to Canada, the United States, Australia, Germany, Iran, Turkey and other countries.
If you want to know more about the products, please send us the information, we will do our best to serve you.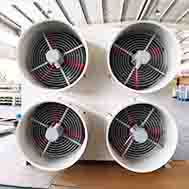 Request Catalogue
Request Tech Details
If you have any doubts about the product, please feel free to contact us by phone or email us. We will provide 7*24 hours service, sincere thanks.
inquire@zhcooler.com
+86 15603820837